DISSIDIA FINAL FANTASY NT July 3 Patch Notes
Here you can find more information about the free update on July 3, 2019.
FINAL FANTASY XIV: Shadowbringers Release Campaign
Zenos yae Galvus items have been added.
Zenos's Imperial Court Attire Appearance and Omega Samurai Blade weapon will be made available for purchase.
Additionally, Zenos's Legatus of the XIIth appearance will be made available for purchase and is available for free during the campaign.
You must have first purchased the Zenos yae Galvus Starter Pack to use Zenos's new weapon and two new appearances.
Trial Battle Music
During the campaign, you will receive one Trial Battle music track from FINAL FANTASY XIV on the results screen for each battle you complete.
Eligible Modes: Ranked matches, custom matches, gauntlet mode, sparring matches, story battles.
Custom match event lobbies are ineligible.
Character adjustments
Individual changes have been made to some characters.
▲ indicates an upward adjustment
▼ indicates a downward adjustment
● indicates adjustments in both directions.
Garland

Ultimecia

Cloud

Ramza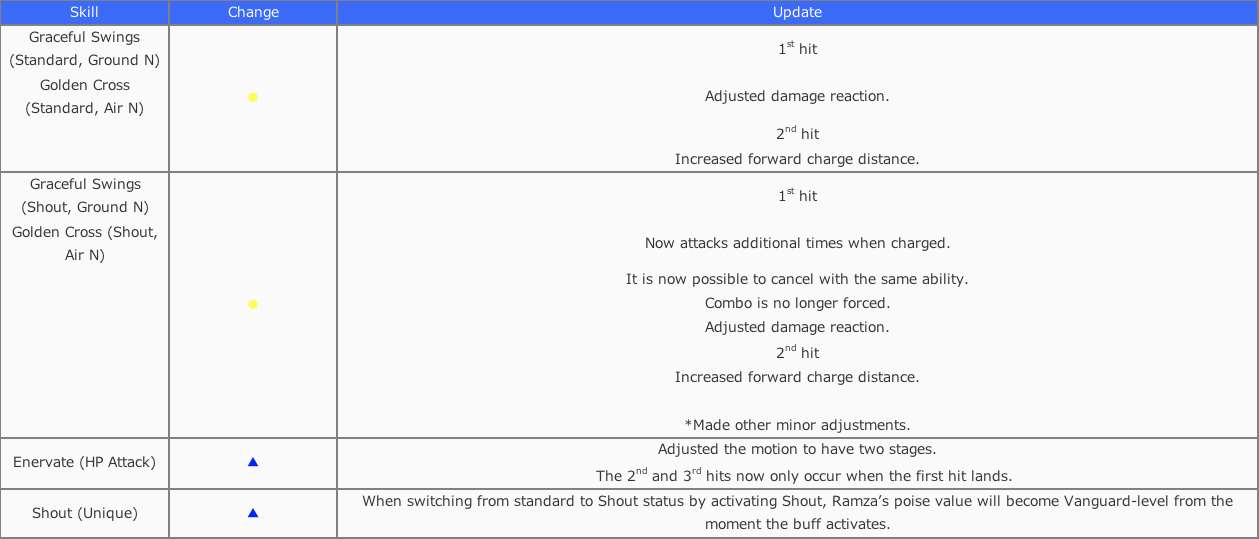 Resolved Issues
The following issue have been addressed:
Character Issues
Firion: The issue wherein friendly AIs would not recover when hitting with an attack after activating Blood Weapon.

Cloud: The issue wherein Omnislash would occasionally stop hitting in the middle of the attack.

Rinoa: The issue wherein Rinoa would occasionally continue to lose health when using a bravery attack until the animation of the attack ended if the bravery attack was activated immediately after Angel Wings wore off.
Story Issues
The issue in Story Mode wherein clearing certain event panels would occasionally fail to unlock the next panel.
Other minor issues have also been resolved.
We hope you continue to enjoy DISSIDIA FINAL FANTASY NT.